Neighborhood Garage Door Service - Garage Door Repair Boca Raton, FL -

561-469-0396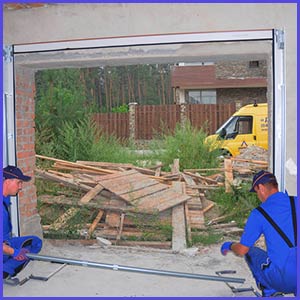 What seems like a minor issue with your garage door could end up turning into something serious in a hurry. For this reason, we advise you to contact Neighborhood Garage Door Service as soon as you notice that some component of your garage door is not working as it should. We will arrive promptly, so you don't have to worry about trying to fix it yourself in the meantime. Big or small, all garage door repairs should be left to the professionals. Searching those professionals in Boca Raton, FL is not a tough task when Neighborhood Garage Door Service is here.
When we arrive at your location, our mind is always on exceeding your service expectations. We encourage you to let us know about anything we may have overlooked or anything additional you would like us to do that we didn't discuss in advance. Our repair technicians are flexible enough to change the game plan when necessary. We also welcome your questions and feedback either in person, over the phone, or by email.
Garage Door Inspections
It's hard to imagine the inner workings of a garage door are when it raises and lowers so quickly. The reality is that today's garage doors are complex pieces of equipment that contain multiple mechanical parts. These parts work in unison to allow the garage door to function. When one of them breaks, it can affect how well the others work also. That means one worn part could render your garage door inoperable for a while. Even in an urgent situation, please call us 24 hours a day for help with the issue.
One way to avoid a sudden parts failure and being unable to access your garage is to set up a regular inspection schedule with Neighborhood Garage Door Service. Our journeymen check the condition of the tracks, cables, springs, motors, and every other part of the entire garage door system. If we spot a minor issue, we will repair it on the spot. For major problems, we will set up another appointment so we can spend as much time as we need attending to the situation. However, it won't be weeks away like with some companies in Boca Raton, FL. We will get you in right away.
Damaged Doors
A damaged door can be an eyesore and affect the way your garage door functions. Whether you have a dent because someone backed into the garage door or the windows are broken due to neighborhood pranksters, we're here to help. No one wants to live with a damaged garage door indefinitely. We will ask you a few questions about the damage over the phone and then send a Neighborhood Garage Door Service technician to your home or business with the tools to do the job right.
Garage Doors That Won't Track
If you have ever looked up at your garage door from the inside, you noticed a set of tracks and small wheels. This is what allows the garage door to remain stable and to operate as you expect it to. Occasionally, a door may come off its tracks and you won't be able to open or close it. The most typical cause of this is normal wear, but a foreign object and the effects of extreme heat or cold can also affect garage door tracks. It's important to call for help immediately before it snaps without warning.
It might seem like putting a garage door back on its tracks would be easy. However, this is not the case. You could end up dropping the door on yourself or causing more damage by twisting the wheels or track. Rather than take that risk, remember that you can call Neighborhood Garage Door Service 24 hours a day, seven days a week for immediate help with your garage door tracks.
For your garage door to work properly, its weight and the tension strength of its springs must be equal. Even a slight variation in either direction could cause a sudden spring failure. We have the experience to accurately assess the weight ratio of your door and springs to ensure everyone's safety.